Test disc/movie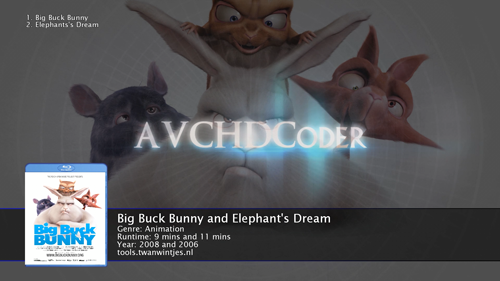 If you want to know if your player or the player you want to buy is capable of playing AVCHD's created with AVCHDCoder you need a test disc. I created an AVCHD for you to burn on a single layer dvd. I used the movies Big Buck Bunny and Elephant's Dream to create one. Both movies are licenced under the Creative Commons license and all credits go the authors: www.elephantsdream.org and www.bigbuckbunny.org
The AVCHD iso contains both movies with an intro and menu so you can test if the player supports it. Technical details:
Resolution: 1920x1080, progressive video
Framerate: 24fps
Video codec: H264
Video bitrate: 7500Kbps
Audio codec: 6ch AC3
Audio bitrate: 640Kbps
Duration: 21 minutes (10 and 11 minutes)
No subtitles
Intro video
Menu
Size 1.28GB
Download
I am using a torrent to distribute the iso file so you need a bittorrent client to download it. I recommend µTorrent if you don't have a torrent client installed.
Download this torrent to start downloading the test disk. Please seed to support the project and saving me from infinity sharing.
How to burn
I recommend you use ImgBurn to burn the iso file to disc. If you already installed AVCHDCoder you can go to Tools and choose ImgBurn. After you launched ImgBurn choose "Write image file to disc". Then click on File --> Browse for a source file. Choose the mds file in the downloadfolder (AVCHDCoder - Big Buck Bunny - Elephants Dream (AVCHD)). Enter an empty dvd. I recommend a writing speed of 4x. Then click on the large Write button to start burning the iso.
You can also use Nero to write an iso file.
---